Are you a mom wanting to be more crafty? Maybe you have ideas that you just can't put down because you aren't sure where to start.
www.YouCanMakeThis.com was created by a mom who wanted to provide downloadable instructions on how to make just about anything from children's boutique clothing and jewelry, to handbags, home decor and more. What makes the site unique is that these instructions are written by everyday moms who have an expertise in an area. They are written in a way that makes you feel you have a friend sitting right next to you, telling you what to do next. They all have detailed instructions and step-by-step full-color photos so even the most "craft-challenged" person can make these items for their homes and families.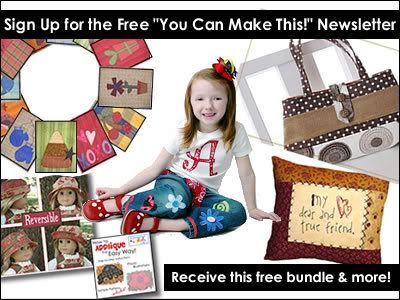 In fact, if you'd like to try out some products for free, you can sign up for their FREE newsletter. After sign-up, you'll receive a link to your email inbox asking you to confirm subscription. Simply confirm your subscription, and you'll receive all of these product instructions pictured here, plus an online video and
digital scrapbooking
frames. You can be crafting in no time!
How Would You Like To WIN?

One reader will receive a 50.00 dollar bundle of DIY instructions.
Child/Adult Apron Set

Women's Reversible Wrap Skirt

The "She Loves Me, She Loves Me KNOT" Handbag

The Reversible Patchwork Bucket Hat

Easy-Fit Pants

Boys Ties
To ENTER (Mandatory Entry)
-Head over to YouCanMakeThis.Com Then come back here and leave me a comment letting me know something you would like to make.
For ADDITIONAL Entries
-Twitter this contest! Leave me your Twitter name so I can confirm.
-Follow For The Love of Baby! (see sidebar)
-Grab the For The Love of Baby! button or add us to your blog roll.
If you complete all these entries, you can have ADDITIONAL entries by commenting with additional items you would like to make. (If you are not a blogger, leave me a comment letting me know and you can then comment. Remember, I do know a thing or two and can figure out if you are being dishonest!)
This Contest Will End March 25th at 11:59 PM CST!