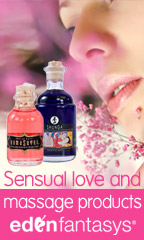 When it comes to my group of friends, I would say that only about 30% are married. Recently, a handful of friends got
engaged. It's always a fun and exciting time to get out with a group of the girls and celebrate the next step in these soon to be married friends' life!
Now, we all know, you can't have fun at a Bachelorette party without some party favors and gag gifts. A Bachelorette party is all about having fun and being able to laugh and go all out.
EdenFantasys has a variety of products for all personalities, bashful or bold 😉 Not only will you be able to plan the perfect bachelorette party goodies but you can also check out an awesome selection of honeymoon gifts to make sure your friends enjoy their life married!
All opinions are 100% my own.