Are you ready for Christmas?? Our shopping is pretty much done except for the small little things you might pick up as you go.
So are you ready for the Sunday Stroll??
The girls of The Classy Closet Show are having the "Road to 1000" as they try to gear up for their January 9th broadcast! There will be lots of giveaways and surprises in store!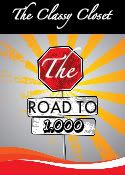 Susan at Life in A House of Blue has ALOT of stuff going on at her blog right now! A giveaway I'm for sure checking out is the Hip Hop Baby Giveaway! Kelsie would love it soo much. She is my dancing queen 😉 If you are a music lover like me, you will love ChicBuds! You can win your own pair over at Life in A House of Blue right HERE! There are alot more giveaways over there as well so go check it out!
Now if you are a blogger that wants to get what you are saying out to individuals, Matt "The MomDot Man" wrote an excellent post. Yes it was back in November, but I'm doing alot of things to my blog and had to go back and check some of this out "Easy SEO Tips to Optimize Your Blog" There is alot of great information for bloggers, experienced or not.
Pamela at PMKU has another great contest going on right now to win a $50.00 Gift Certificate to Ooh LaLa Mama. It ends TONIGHT (Sunday) so get over there and enter right NOW!
Something new you will also see on the Sunday Stroll is Mr. Linky! If you have a post you'd like more people to read, or maybe a giveaway to enter-leave the link below for everyone to check out!! Now make sure you leave the permalink to your ACTUAL post!