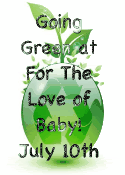 Are you ready for a party? GOOD! We are Going Green this July and want you to join us!
Our Going Green party will feature ways to help protect our environment and find natural ways of living for all aspects of your household. We are constantly hearing everywhere we look about new products that are natural and less harsh which is vital when there are youngsters in the house. We want the best am I right?
Would you like to be featured with your green or organic product? We have several great features and giveaways lined up but there's still time to add your business to our list!
Cloth Diapering
Natural Toys
Natural Cleaners
Organic Foods
Organic Cosmetics
So Much More!
If you are a "Green" Writer and would like to be featured in a guest post here at For The Love of Baby, or for more information, please feel free to e-mail me at jenna@loveofbabyonline.com. Readers here at For The Love of Baby! love hearing from guest writers and will help increase your readership as well.
Do you have a question about going green? Living natural? Ask away!