When it comes to your smile, keeping a healthy mouth can truly impact your overall health and that is why oral hygiene is so important to me as a mother. Due to a birth defect, I have weaker teeth and always ensure my kids know how important it is to take care of their teeth (especially if they have braces).
Over the past year, I went from diluting my children's juice to switching them to flavored water or bottled water in general after talking to their dentist. I have never been a fan of allowing kids to drink pop so it was easy to make it exciting for them to have sugar free flavor packs for their water. Surprisingly, they quickly realized how much more they enjoy having ice cold water and can still have "juice" they pick.
My kids always love going to the dentist on a regular basis and with fun toothbrushes, they love brushing their teeth. There are so many oral hygiene products, we even have a few Superheroes to help out. 😉
It's true. It's not only what we put in our mouth that matters but how we take care of it, that leads to a healthy heart, mind and body. Good oral health can limit your exposure to heart disease, stroke and memory loss. This is why it's so important to start taking care of your oral health early, a healthy mouth equals a healthy you!
The people at Smile Health Dental Plans know this and they have come up with one of the most simple and affordable Dental plans on the market today!
Smile Health Dental Plans would like to know how you take care of your oral health and what you do to ensure a healthy smile!
Check out their website at https://smilehealth.com.
About Smile Health Dental Plans:
Smile Health Dental Plans are an affordable alternative to traditional dental insurance. Members pay an annual fee to receive discounts all year long. And with Smile Health Dental Plans there are no hidden costs, just savings of 20% or more on many preventative, restorative and cosmetic dental treatments. You get immediate benefits, no health restrictions, no waiting periods, no claims, no maximums, and more!
Smile Health isn't available in Iowa yet but I can't wait for it to be here soon so I can find a supplemental plan to give me better options than my present insurance.
Smile Health Dental Plans offered this PDF with 8 Tips to Save Your Smile and Your Life!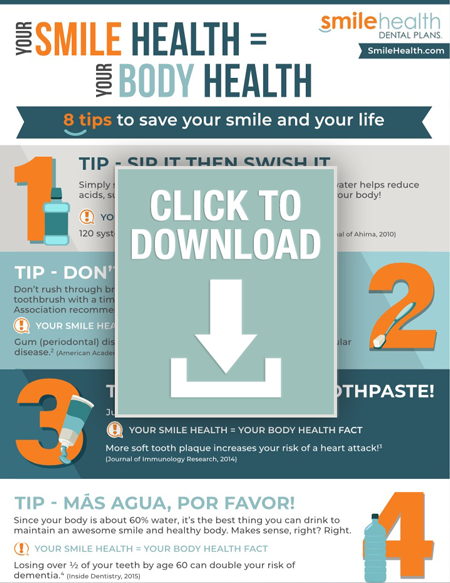 GIVEAWAY
To help spread the word, Smile Health Dental Plans has offered a
"Your Smile Health = Your Body Health" Care Kit to one MommyJenna.com reader!
1 – Oral B Vitality Electric Toothbrush
1 – Crest Pro-Health Toothpaste Travel Size
1 – Oral B Glide Floss
1 – Crest Pro-Health Multi-Protection Oral Rinse
1 – Smile Health = Body Health PDF pamphlet
Smile Health Dental Plans Care Kit