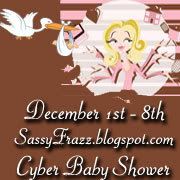 It's time for the Sassy Frazz Cyber Baby Shower hosted by Pamela at Happy Panda Baby! Click on the button above to go check out some great prizes and of course, your chance to win!
And what would a baby shower be without games?
The first game is the "sweetest picture of Daddy with new baby" I have some sweet pictures of Steven with Aubrey. The first is Steven right after Aubrey was born. You can tell he is in total awe of her. The second picture is Steven with Aubrey when she was about a month and a half old just snuggling.
The second game is to guess Sarah's 2nd child Caleb's weight when he was born. He was 3 days overdue and she had to be induced. I am going to guess that Caleb was 8 lbs 7 oz. 🙂
The third game is to create something with play doh so I will have to see what I can do there!
So go over to Sarah and say Congrats and take part in her Cyber Shower!