I can only imagine the response from this post title.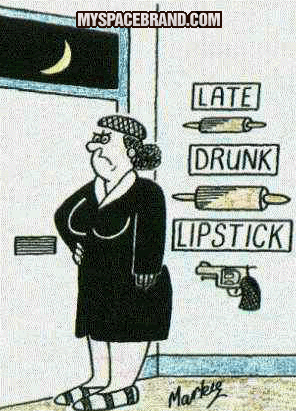 Funny Pictures | myspace layouts | MyspaceBrand.com
Steven decided to go back to school this summer. Sweet right? Wrong. And I knew from the start is was wrong. "I'm not going to get in the way of you going to school Jenna."
HA. Let's discuss that statement. He is leaving two-three hours before his classes to go "study" because he can't do it at home. I have to study at home, juggling two little girls, screaming while listening to DORA DORA, and taking care of the household. I'm getting my time to do homework huh?
Last night, he broke a picture frame going to get a flashlight while it was storming. Everyone was in bed except him. The picture broke right where Kelsie and Aubrey's BOOKS are. My girls love books. They are over there 24/7.
"Steven, we need to pull everything out and make sure all the slivers are vacuumed."
"I got it all last night."
So as I go to grab a book playing with Aubrey, WAM. I get glass in my hand. I spent the last twenty minutes vacuuming and picking up pieces of glass.
He's going to give Kelsie a bath while I take Aubrey to her Well-Child today huh…yeah that's funny I get home and yeah definitely has not had a bath.
Someone bring re-inforcments…preferably in the form of alcohol. Lots and Lots of Alcohol. Is it BlogHer Yet?