By this point, most individuals in the blog world have heard of
Etsy
. The thing I've noticed is, there are SOO many things over there it's sometimes very hard to find just what you are looking for! I love checking out the work at home Mom's on Etsy and I found a designer I know you will absolutely love as much as I do!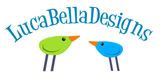 Christina is the incredible creator of LucaBella Designs. From bibs to diaper wipe cases (I know you all want to get your hands on), Lucabella Designs has unique and beautiful prints that every personality will love. From the moment I saw these, I had to give you all the chance to find out more about Christina and her beautiful products. Christina was awesome enough to answer my Q&A for all of you to learn more as well!
1. Tell us a little about yourself.
My name is Christina Norman. I reside in Arlington with my husband, Jason, and two children, Ashleigh and Matthew. I am a stay at home mom or I guess I should say, work at home mom who enjoys family life, cooking and anything creative! I was born in Japan and raised in California. But Texas is home to me now.
2. How did LucaBella come to be?
LucaBellaDesigns began in February of this year. I found that most of the mass produced baby items out there were boring and repetitive. They all looked so similar. I felt that just because it was a baby accessory, it didn't have to have a pink bunny or blue dog on it. I wanted to create a one of a kind piece, something that you wouldn't normally associate with anything baby. I believe that is what draws people to my site. The fabrics are fun, bright and happy. What's in a name? I wanted to somehow incorporate both of my children's names together. But, nothing I came up with sounded right. I wanted it to flow. I am also a mommy to my four-year old Yorkie. Her name is LucaBella ;0)
3.What do you love most about working from home?
I love being able to spend time with my family. My husband is a police officer and works 12-hour days. I fear that if I worked outside of the home, we would never see each other. I also enjoy that I am always available for both of my children. I am able to be at home when my daughter gets out of school. Another upside, I can work and watch Spongebob with my son at the same time. What kind of job out there would allow that?
4.Do you have a favorite project you love working on?
I really enjoy working with fabric and ribbon. They are both fun and your creative possibilities are endless. I love Japanese inspired fabrics. Almost every piece is whimsical and so sweet. I also favor custom orders. I like to try things that I wouldn't normally make. I love a challenge! That's what keeps me inspired.
5.Do you have any words of advice for Mom's who would like to start their own business?
Stay positive! It can be challenging when your materials are handmade. I know that it's hard not to take criticism personal. But, you have to remember that this is a business and not everyone has the same style. I honestly believe that if you enjoy what you do, that will reflect in everything that you create.
Some of my favorites you just have to check out are the
"Does This Diaper Make My Butt Look Big?"
onesie as well as the
Bad to The Bone
Diaper Wipe Case. I know you will love EVERYTHING over at LucaBella Designs just like I do! And don't forget Lucabella would have that perfect gift for the upcoming holidays or if you have a Baby Shower coming up!
Christina has given For The Love of Baby! readers a chance to win BIG from LucaBella Designs! She is giving TWO readers a $25.00 Gift Certificate! How awesome is that?
1. First head over to
LucaBella Designs
. Take a look around and then come back here and let me know your favorite design Christina has to offer!
For Additional Entries, (Leave each in a separate comment)
1. Blog about this great giveaway linking back to
For The Love of Baby
! and
LucaBella Designs
! Do so and earn THREE additional Entries.
2. See something you just can't wait to get your hands on? Help support this awesome Work At Home Mom and her growing business! If you make a purchase from LucaBella Designs, you will gain FIVE additional entries!
3. Fave For The Love of Baby on Technorati! (see side bar)
This Contest Will Run Until November 10th at 11:59PM CST!
Don't forget to tell Christina thanks for letting us check out LucaBella Designs!
Winners will have 48 hours to contact me from time drawn!