Last Week's Thursday 13 was all about Aubrey in honor of her 1 month birthday. This week is about Big Sis Kelsie!(Also Known as Turkeybutt, Sweetie Pie, Princess CrankyButt, Monkey, TookieBird) Here is an example of the Princess CrankyButt!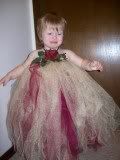 13 Things About Kelsie!!!
1. February 3rd, Kelsie will be TWO! My baby girl is growing up!
2.Kelsie loves ELMO!
3. She loves helping out and being a big sister! She "reads" to little Aubrey, and loves giving kisses. You're such a great big sister Kelsie!
4. Kelsie enjoys the outdoors alot! She loves looking at the trees and flowers.
5. Kelsie loves to draw and color. If you give her a pencil, she'll make a pretty picture for you!
6. Kelsie is TALL! I don't know how many times people do not believe me that she isn't older than she is. Nope folks, she's just a very tall girl!
7. Kelsie loves cuddles. She likes crawling up in your lap with her blanket and snuggling! (Mommy loves Kelsie Cuddles!0
8. She is ORNERY! If only you could hear her little "EVIL" laugh. It seriously is a cackle!
9. We are definitely going through our "terrible twos" early.
10. We shake our head No even when we mean to say Yes lol.
11. Kelsie loves books! She has her own two shelves on the bookshelf that are just for her.
12. Kelsie can be a picky eater but she absolutely loves frozen strawberries!
13. Kelsie is my little goofball!