After giving birth to Kelsie, I wanted to check out slings and so forth. It just caught me attention as something I wanted to do. I purchased a Slingrider from Target and got very excited to try it out. I ended up disappointed. The strap pulled on my shoulder, there was only one style, the fabric bunched over Kelsie's face (I was a new Mom….what Mom likes all that fabric over their brand new baby's face? Not ME!) So the Slingrider was quickly retired to the closet and not used. (Next thing I new I was seeing a product recall.)
With Aubrey, I wanted to look into babywearing again. Mei tei, pouch, sling. Wait what? Ok soo much to learn right? Well I found a company I could totally learn and PLENTY of designs to choose from. I found out about the Rockin' Baby Sling. With the slogan "Because Moms are Rock Stars!" can you see why I loved it right away?
Rockin' Baby Sling was born in 2002. "We are two moms who started our company back in 2002, when we had our first kids, to fill the need for cool, stylish and functional slings. We are firm believers in baby wearing – it is wonderful for parent and baby! Since then we've added a reversible / adjustable pouch to our line and opened a store in Los Angeles with tons of rockin' goodies!"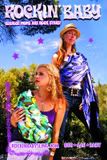 Rockin' Baby Sling has pouches and and slings for every styling Mom and Dad. And YES, DAD will even find prints he can enjoy wearing. As soon as I received our baby pouch, I was beyond pumped to try it out and didn't waste anytime. I looked over the five different positions that baby can be carried in as they develop and learned how to slide in and out of the pouch soo quickly. We had to run to the mall so what a perfect time to try it out. Within five minutes of walking in, "Where did you get that?" "Oh my gosh, that is just beautiful, she looks so comfy". The fabric wasn't bunched over her face, the strap wasn't hurting my shoulder or back, and obviously the print matched me. And Aubrey gave it the seal of approval as well. Soon after entering the mall, you could hear Aubrey "humming" from inside her pouch. She felt so secure in it and it was obvious!
Another awesome thing about the baby slings/pouces at Rockin' Baby Sling is it "grows" with baby. They can be worn up until baby reaches 40 lbs or around 3 years of age. How many carseats do we have to by from birth until three years? The Sling is a great product you don't have to replace as baby grows. The Rockin' Baby Sling website explains where the concept came about.
"We started making Rockin' Baby Pouches with the help of our kids, Seamus, Finn and Tova. Both of us have used slings for a very long time, and loved them, but we realized that not everyone gets the ring sling concept. It took us a long time to get there, but we feel we've created a pouch that is easy to use, super fashionable (all of them are reversible), and incredibly versatile. We wanted our pouch to be adjustable so it could be as diverse and functional as our slings, which we did with a series of zippers. We also added a very thin rail of padding that doesn't make the pouch bulky, but does provide a little cushioning at the back of the leg in the hip carry."


The Rockin' Baby Sling definitely gets an A+. Not only from Mommy, but Aubrey loves it too!
Rockin' Baby Sling